insidebitcoins.com / Jacob Cohen Donnelly / Nov 20, 2014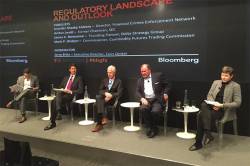 NEW YORK (InsideBitcoins) — When the words "bitcoin" and "regulation" are offered in the same sentence, many people react negatively. And that is a justifiable reaction because many bitcoin companies, especially those that do business in New York, have been dealing with the BitLicense proposal and its many possible ramifications.
However, Monday at the Bloomberg bitcoin panel discussion regarding regulation, there was a resounding agreement that regulation is not a bad thing — and could actually be a positive for the bitcoin business.
"Regulators are risk averse: 'If I don't understand it, I don't like it.'"
"I think you do a disservice to the industry by being blind to the realities of the world we live in. In today's world, having a compliance officer is a mark of professionalism," Arthur Levitt, former Chairman of the SEC, said. "I don't care if you call him a Chief Compliance Officer or a banana, but the function is to bring transparency."