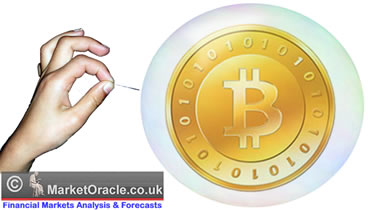 marketoracle.co.uk / By Nadeem Walayat / Dec 07, 2013 – 02:27 PM GMT
The Bitcoin price last traded at USD 790 (this morning) which represents a 37% price crash against its trading high of 1242, vaporising the wild dreams of just a few days ago where some reported that the virtual money could be destined to go as high as 1 million! Whilst never realising the difference between what is virtual and what is real, instead in large part bitcoin pumper's remain in denial as many have been seduced by the golden coin image to imagine that bitcoins and gold are the same or similar when the reality is the exact opposite. Bitcoins is fairy dust, it is perceived as being very valuable but a small gust of reality is enough to make it disappear.
Bitcoins is DESIGNED to play out as a ponzi scheme bubble to enrich those that created it as they mined over a million bitcoins (current 12.1mln bitcoins) relatively easily (initially low processing power required), with future supply increasingly limited as much greater processing power is required to mine more blocks which coupled with the media frenzy has helped push up the price which the designers and early adopters can offload into and onto unsuspecting fools. This is a ponzi scheme where only the designers and initial miners win hugely, that I suspect will lead to criminal prosecutions.